Are You Tired Of Wasting Money On Home and Mold Inspections?
Every now and then, a

"Unique Product"

comes along to solve an important problem that every homeowner, landlord or renter has to face. Mold and Moisture Intrusion is the answer to that statement. Everyone is faced with this before buying or renting a home or apartment.



We are here to help solve that problem for you!





"MOLD! WHY INSPECT?"

is your answer.



We provide a step by step guide using pictures to help guide you make the right decision before you call in a

"Professional Expert"

. Our goal is to help you look objectively at a potential real estate purchase or rental of your Dream House or home.




"MOLD! WHY INSPECT?"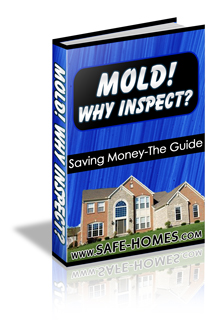 "MOLD! WHY INSPECT?"

Only $5.95
Safe-Homes is in the Inspection Business. In our business, we do Mold, Allergy or Asthma Inspections everyday. We see how people spend unnecessary money on useless inspections that could have been evaluated by the client before we ever got there.
I know what you are saying now!

"Why Do You Want To Help Me Save Money?
In today's economy, things are tough and we are here to help you make an
intelligent decision
. If you are looking for a house or apartment, use our Mold! Why Inspect? book before someone shows up to inspect your potential home. Many times, I have heard my clients say at the end of our inspections, "I wish I had known that before you inspected the house, we would have saved money!
It's Time For You To Save Money On Mold Inspections!



Get Your Copy Now!
"MOLD! WHY INSPECT?"
Only $5.95